Our Mission

Life is too short to drink mediocre wines and eat badly.
Johann Wolfgang Goethe

Good food and excellent wines become an unforgettable experience with a beautiful company that finds itself in a welcoming and comfortable environment.
As an original restaurant, born from the passion for architecture and designed in harmony with the surrounding nature, with the sea breeze and the solar arch.

Guided by love for good wine and healthy food we have chosen to offer our guests a complete range of the best national wines, perfect for our climate and to enhance Italian cuisine. We have chosen them directly from small quality producers, who put passion in the first place in their work.
We are in love with authentic flavors and fresh and wholesome foods: like vegetables, aromatic herbs, fruit and vegetables that we grow in our organic farm, respecting the environment and the territory.
With the same ecological approach we raise free grazing animals in the Polomar estate, integrating their diet with the products of our garden. Fresh fish from local fishermen, pasta, desserts and ice creams made: freshness and quality are the raw materials of Italian cuisine, which enhances flavors through great simplicity.
Great dishes, great wine and a cozy atmosphere in which to feel good together: it was our ideal restaurant. We are happy to have made it!
Enjoy your meal.
Chef Angelo Castiglioni, Raquel and Andreas Krattiger
Our Chef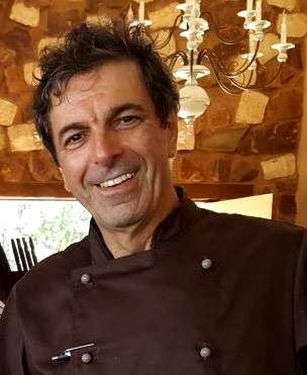 Angelo Castiglioni
​40 years of experience in Italian cuisine at the best Italian and Swiss restaurants: Hotel Romazzino in Porto Cervo in Sardinia – Italy, own kronen restaurants and Salmen Basel – Switzerland, Restaurante Small World Andorra – Italy, Restaurant Bindella Zurich – Switzerland
From us you can enjoy typical dishes of Italian cuisine. Our Chef Angelo's multi-year experience will be happy to prepare delicacies for you with our fresh produce from our nearby farm.